Today's opening hours
2023.09.30 Sat
Introduction of Animals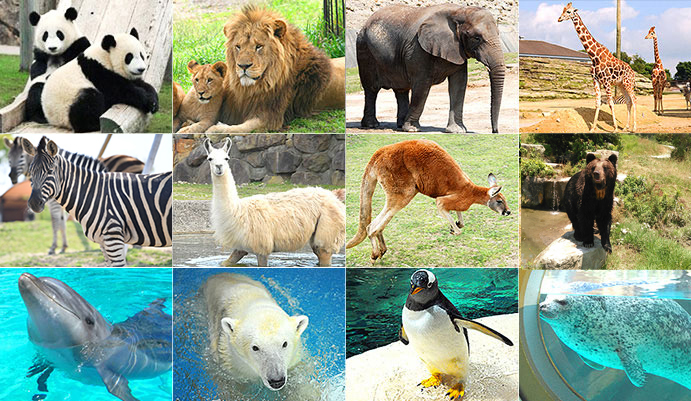 Once I want to meet a number of valuable animals
Various kinds of rare animals that we want you to see at least once.
​​There are typical animals of the wild, for example, G​i​a​n​t​ ​P​a​n​d​a​s , Lions, African Elephants, Reticulatad Giraffes, and Bottlenose Dolphins. In Adventure World, you can have close contact with animals.
Facilities

You can experience extraordinary adventure in about 800,000 square kilometers of park ground!
In Adventure World, there is a large-scale zoo, aquarium and amusement park all in one that will keep you entertained all day.
Park Guide
Tickets Fees (1Day Pass)

| | |
| --- | --- |
| Adult(Age 18+) | 4,800yen |
| Senior(Age 65+) | 4,300yen |
| Junior(SHS & JHS student) | 3,800yen |
| Child(Ele.student Ages 4+) | 2,800yen |

*All of fare may be changed without a previous notice. Please acknowledge it beforehand.

Schedule

September 2023

| Sun | Mon | Tue | Wed | Thu | Fri | Sat |
| --- | --- | --- | --- | --- | --- | --- |
| | | | | | 1 | 2 |
| 3 | 4 | 5 | 6 | 7 | 8 | 9 |
| 10 | 11 | 12 | 13 | 14 | 15 | 16 |
| 17 | 18 | 19 | 20 | 21 | 22 | 23 |
| 24 | 25 | 26 | 27 | 28 | 29 | 30 |
|   |   |   |   |   |   |   |

October 2023

| Sun | Mon | Tue | Wed | Thu | Fri | Sat |
| --- | --- | --- | --- | --- | --- | --- |
| 1 | 2 | 3 | 4 | 5 | 6 | 7 |
| 8 | 9 | 10 | 11 | 12 | 13 | 14 |
| 15 | 16 | 17 | 18 | 19 | 20 | 21 |
| 22 | 23 | 24 | 25 | 26 | 27 | 28 |
| 29 | 30 | 31 | | | | |
|   |   |   |   |   |   |   |

November 2023

| Sun | Mon | Tue | Wed | Thu | Fri | Sat |
| --- | --- | --- | --- | --- | --- | --- |
| | | | 1 | 2 | 3 | 4 |
| 5 | 6 | 7 | 8 | 9 | 10 | 11 |
| 12 | 13 | 14 | 15 | 16 | 17 | 18 |
| 19 | 20 | 21 | 22 | 23 | 24 | 25 |
| 26 | 27 | 28 | 29 | 30 | | |
|   |   |   |   |   |   |   |

December 2023

| Sun | Mon | Tue | Wed | Thu | Fri | Sat |
| --- | --- | --- | --- | --- | --- | --- |
| | | | | | 1 | 2 |
| 3 | 4 | 5 | 6 | 7 | 8 | 9 |
| 10 | 11 | 12 | 13 | 14 | 15 | 16 |
| 17 | 18 | 19 | 20 | 21 | 22 | 23 |
| 24 | 25 | 26 | 27 | 28 | 29 | 30 |
| 31 | | | | | | |

January 2024

| Sun | Mon | Tue | Wed | Thu | Fri | Sat |
| --- | --- | --- | --- | --- | --- | --- |
| | 1 | 2 | 3 | 4 | 5 | 6 |
| 7 | 8 | 9 | 10 | 11 | 12 | 13 |
| 14 | 15 | 16 | 17 | 18 | 19 | 20 |
| 21 | 22 | 23 | 24 | 25 | 26 | 27 |
| 28 | 29 | 30 | 31 | | | |
|   |   |   |   |   |   |   |

February 2024

| Sun | Mon | Tue | Wed | Thu | Fri | Sat |
| --- | --- | --- | --- | --- | --- | --- |
| | | | | 1 | 2 | 3 |
| 4 | 5 | 6 | 7 | 8 | 9 | 10 |
| 11 | 12 | 13 | 14 | 15 | 16 | 17 |
| 18 | 19 | 20 | 21 | 22 | 23 | 24 |
| 25 | 26 | 27 | 28 | 29 | | |
|   |   |   |   |   |   |   |

March 2024

| Sun | Mon | Tue | Wed | Thu | Fri | Sat |
| --- | --- | --- | --- | --- | --- | --- |
| | | | | | 1 | 2 |
| 3 | 4 | 5 | 6 | 7 | 8 | 9 |
| 10 | 11 | 12 | 13 | 14 | 15 | 16 |
| 17 | 18 | 19 | 20 | 21 | 22 | 23 |
| 24 | 25 | 26 | 27 | 28 | 29 | 30 |
| 31 | | | | | | |

Park operation day
Closed
Park operation day with special night adventure.

*On the busy day, park opening hours may be changed.

View a more detailed Park Operation Calendar

Access

Access by car

From Mastubara JCT Way of Hanwa Expressway : approx. 2hr

Access by bus

From Osaka
approx. 3hr30min

Access by train

From Osaka
JR-Line Kiseihonsen Express : approx. 2hr